Our strategies for growing a connected Mecklenburg County are:
Expand capacity and increase use of sidewalks, bikeways, greenways/paved trails, bus routes, and rail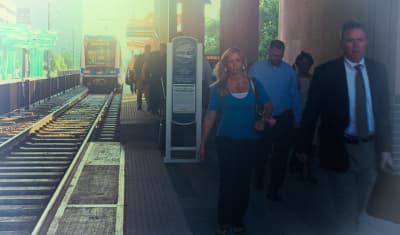 Identify transportation and mobility connectivity gaps for the addition of more bus cross-connector routes.
Develop a more integrated and active transportation system by increasing connectivity of streets, sidewalks, crosswalks, and greenways/paved trails.
Increase bicycle friendliness through street and greenway/paved trail improvements.
Connect lower-income and at-risk neighborhoods with infrastructure.
Secure creative and innovative funding mechanisms for initiatives that reduce single occupancy vehicle trips.
Expand availability of bicycle education services.
Build stronger connections across diverse population groups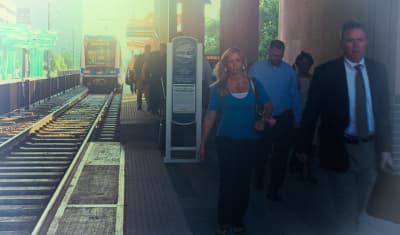 Identify examples of where the community has successfully brought diverse populations together and build on successes.
Encourage entrepreneurial activities that support diverse, welcoming, and inclusive programming in public spaces.
Expand programs addressing specific neighborhood issues that support neighborhood dialogue and develop neighborhood leaders.
Incorporate social capital and equity in evaluation for funding projects.
Ridership for Charlotte Transit rose prior to the recession (reaching peak levels in 2008) but has generally remained flat since that time. The map of transit ridership (below) shows the wide variation in transit ridership across the county. Higher ridership is clear along the Blue Line light rail (opened in 2007) that runs from the dark blue areas in the County's southwest into Uptown. The completion of the LYNX Blue Line extension from Uptown to University of North Carolina Charlotte in 2017 will start a new chapter for transit in the region. The new section of light rail will connect the booming southern part of the line and Uptown Charlotte with the nearly 30,000 students enrolled at UNCC.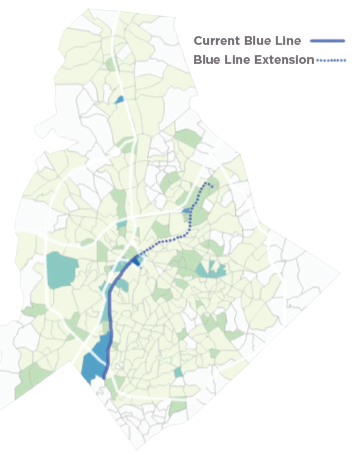 Related Principles
Related Plans and Programs