Our strategies for growing a resilient Mecklenburg County are:
Manage zoning and development to revitalize community character and the natural environment while allowing for growth and innovation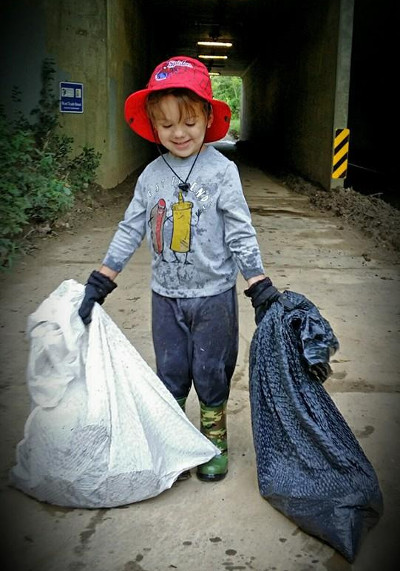 Improve street networks by investing in road improvements and connecting transportation modes.
Develop and adopt sustainable infrastructure goals and/or guidelines for public capital projects that respond to population growth as well as natural and man-made events.
Establish mechanisms to provide residents and developers with information on sustainable building as new development and redevelopment occurs, and during the plan review/permitting process.
Incorporate into zoning considerations: infrastructure availability, density, and timing to best align land use planning with essential services to create vibrant, walkable, mixed-use neighborhoods.
Enhance the tree canopy through innovative development processes and collaboration.
Launch building retrofit incentive programs in all jurisdictions.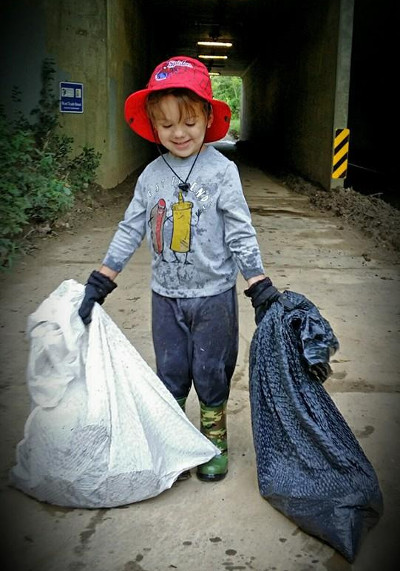 Implement a community engagement/education campaign on energy use and avoided costs, promoting the benefits of cost savings and environmental improvements, with emphasis on tenants and landlords.
Expand recycling participation.
Encourage the installation of water re-use systems for residential, business, and industrial purposes.
Explore innovative solutions for addressing biodegradable, and construction and demolition waste.
Increase the use of clean and reliable energy solutions.
Partner with local governments to develop a Mecklenburg County Energy Management Plan for public infrastructure.
Reduce sources of light pollution.
Conduct water audits and other analysis to prevent water leaks in commercial, public and residential structures.
Facilitate community-wide conversion of turf to surfaces that use less water, i.e. xeriscaping, low-turf, etc.
Develop community and neighborhood leaders for the future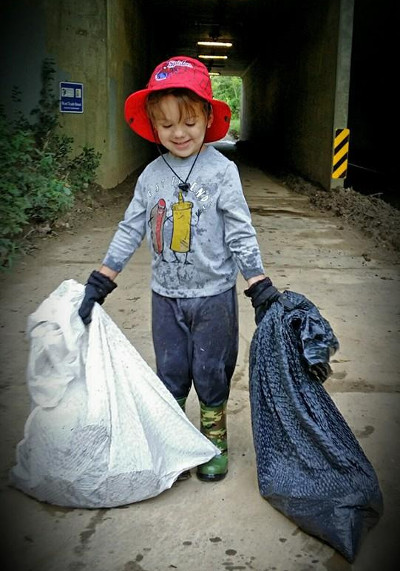 Expand training programs for residents who want to serve on non-profit or local government advisory boards.
Develop a leadership self-discovery program aimed at grassroots volunteers and neighborhood leaders.
Create a crowd-sourced asset map of current and potential neighborhood leaders, reaching out to traditional and non-traditional sources (e.g. meet-up groups, leadership program alumni, schools, etc.) to enhance public and private outreach.
Create intentional interactions between established and emerging leaders to encourage participation in civic activities and in other leadership roles.
Develop better messaging about what it means to be a leader to create/foster a more diverse pool of future changemakers.
Establish a culture of businesses allowing employees to have and use a community engagement allowance.
Coordinate with neighborhood leaders in communicating information and gathering input.
Develop a program explaining the purpose of community involvement and fostering engagement.
Reducing water consumption saves money for households, reduces demand on the Catawba River water supply, and also reduces energy consumption, as it takes energy to pump, heat, treat and deliver water. The map of water consumption corresponds very closely with home prices (i.e. neighborhoods with higher home prices consume more water).
One of the major goals in recycling is to divert waste from landfills. Diverting solid waste from landfills saves money for families and communities, reduces consumption, reduces air and water pollution, and conserves natural resources. Solid waste diversion can be increased by increasing recycling participation and separating yard waste from garbage. Since 2013, the percentage of Mecklenburg residential solid waste that has been diverted from landfills has seen a slow decline. This represents an opportunity for greater awareness to encourage continued recycling and separation of yard waste from garbage.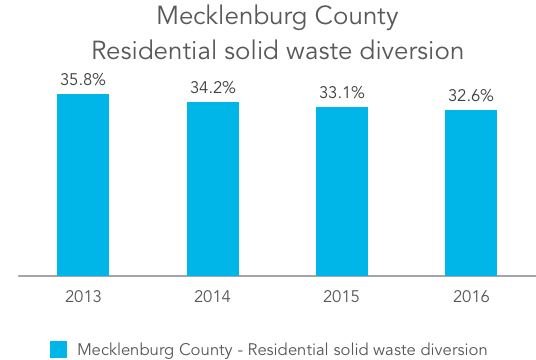 Related Principles
Related Plans and Programs